Fundraiser: February, 2024 (dates to be announced)
What is Anything Goes?
Our Annual Anything Goes Art Auction fundraiser is once again happening this February, 2024. This annual exhibition invites artists to create work in any theme or medium as long as your work is 12″ x 12″ anything goes! This is our biggest fundraiser, where artists can choose to donate 50%, 75% or 100% of the portions of their piece towards the Revelstoke Visual Arts Centre and helps fund our educational art workshops, exhibitions, and community events.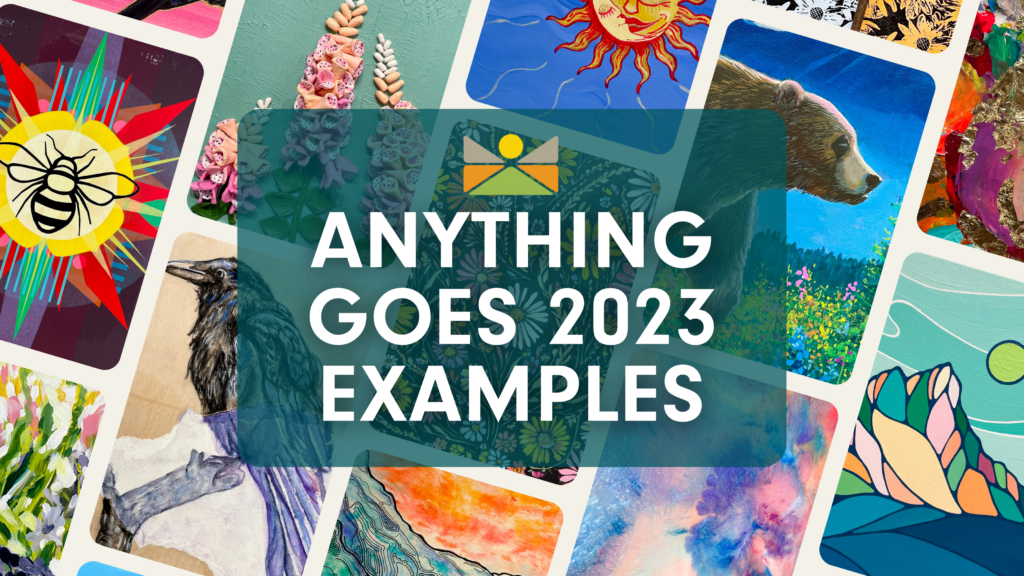 I'm an Artist and I'd like to Participate…
Great! First off, thank you for choosing to donate your time and art towards our not for profit organization! Now the fun stuff… if you want to participate here's how:
Step 1. Grab a Canvas
Pick up your canvas or wood panel from our front desk anytime during opening hours ($10 participation fee)
*these sell out fast, so the sooner the better!
OR – Bring your own and waive the $10 fee. 
Step 2. Create!
Paint, sculpt, wood burn, ink, woodwork or create in any way a 12" x 12" piece of art. This art will then go in our online and in person art fundraiser with part of the proceeds going as a donation towards our centre.
Step 3. Choose your Donation
Remember, this is a fundraiser so we ask that you donate a portion of the proceeds towards our centre. You can donate 50%, 75% or 100% of the proceeds, it's up to you!
Step 4. Drop off your Piece
Pieces must be finished and dropped off back at our gallery by: Saturday, April 8th, 2023
Important Info:
Your piece must be 12" x 12"
Pieces must be returned to the centre by Saturday, April 8th
The auction will take place from April 13th – April 28th
This annual fundraiser helps collects funds for the years workshops, exhibitions, and community events. 
All members are encourage to submit work! The Anything Goes art auction is the perfect introduction to exhibiting in a gallery. 
Submissions are not restricted by location, we accept mailed pieces
Share this with your friends
We can't wait to see what everyone comes up with!
Further Questions? We're happy to help, send us a message on our social channels, email us at info@revelstokeartgallery.ca or pop by our front desk during our opening hours: Wednesday to Friday from 12pm – 6pm or Saturday & Sunday from 10am – 4pm
The Exhibition & Auction:
The Anything Goes Fundraiser will be available for viewing online and at our Public Art Gallery in February, 2024 (dates to be announced) where you can bid on your favourite pieces.
The Auction Closing Event:
This year we will be having a closing night event. This will be a semi formal event with refreshments and live music. The doors will be opening at 5pm. All items for the auction will be closing both online and in person at 7:00pm.